SEO: Update Your Google Business Listing
SEO: Improve your rankings. Update Your Google Business Listing.
Finding, claiming and verifying, your online Google listings for your business can be tedious and challenging.  This process can be even more challenging if the business has moved recently. In late 2013, River City Tea Coffee and Cream changed owners, shortened their name to River City Coffee, and moved two blocks down the street.  In addition, another coffee shop was scheduled to build out in the old space.  So, it was imperative that we not only update their listings to the new location, but correct those old listings.  (Some of these listings were several years old and reflected the original name of the business, "River City Gift Co.")
It is important for the major search engines to have a complete verification of this business' new name and location, not only so customers would find the new spot, but so they would not think it had closed for good (In our case, the old spot was under construction.)  We also needed to make sure customers searching for coffee would find the new location easily.  The question was, "How quickly can we make this happen?"  I expected it to take up to six months.
Here's the steps we took to claim the Google business listing in less than 90 days.
First, we worked to set up the Google account for the business.  In this case, there was already a Google page for the old business name, and that page had not been updated in a long time. The owners and staff couldn't figure out who set up the page, so we built a new page, with the new name and location, and flagged the old one as incorrect.  This isn't the best first option, but in our case, was our best choice.  Note that when you set up a business Google+ page, you need to be careful who the administrators are.  For a small business, the owner is an ideal contact who can add administrators as needed.  If the owner of the business does not have a Google account already, one can be created to align with the business.  Make sure that, if you are a business owner or manager, that you do not trust the keys of the business' Google account to only one person.  If that person leaves, you may have trouble getting access!
Next, in addition to revising the website and shortening the domain name, it was important to create an email address from that new domain name, (in this case we used contact@rivercitycoffeelr.com), and link it to the new Google account.  This helped us to increase the reputation with Google.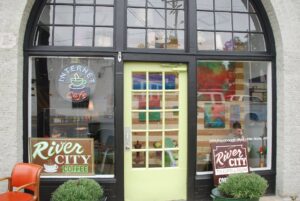 Once we had the accounts set up, we worked to verify the Google maps/Google Places listing verification.  (Google street view was still showing a salon in that spot when the initial request was submitted.)  We began the process of Google + page verification.  Since this was a new location for the business, and it had not been established in this physical location, the verification pin number was sent via a postcard to the new business, rather than by phone.  The entire process took a couple of steps:  the maps verification went through first, then the business page verification code arrived via snail mail.
After the Google+ page was verified, the maps listing became unverified. This is where is helped to have the swift cooperation of the client.  A Google representative called the coffee shop about the maps listing to verify.  The owner talked to the rep, and the map page was re-verified.  Once that conversation happened, all Google pages associated with this account were in sync, and the new River CIty Coffee was legitimate in Google's eyes.
After your business is verified on Google, verifying your business in other search engines, like Bing and Yahoo, and other social service listings, like Foursquare, Yelp, and Urbanspoon, is much quicker and easier.  Other listings like YP.com can be changed or updated more quickly with a confirmed Google listing.
River City Coffee was an extreme example.  Whether you have moved recently, or have been in the same location for years, it is important to check on your Google listing, claim and verify your Google pages, and follow the above steps for verification.
———————————————–
Tim Vahsholtz is a marketing professional with a focus on new inbound marketing techniques. This article originally appeared on timvahsholtz.com in March 2014.